Recycling for a Sustainable World: JB ECOTEX
JB Ecotex Ltd.
Fiber-Reincarnated
India is experiencing unprecedented levels of pollution, with pollution caused by plastic waste being one of the most severe problems the country is currently confronting. The country's unorganized sector is making enormous attempts to recycle and collect plastic, but the country's ever-growing population, as well as a lack of comprehension and effort regarding effective plastic waste segregation at source, are the key reasons for this problem. Due to its various properties, plastic has become a vital component of human life, and as of now, there is now no adequate substitute for plastic.
Plastic is also commonly used in packaged drinking water, cold drink bottles, and other items. Although the bottles' packaging emphasizes that they are recyclable and should be disposed of properly, people frequently overlook this and fail to take the necessary steps to properly dispose of them. Used Water and cold drink bottles can be recycled and are used for manufacturing Recycled Polyester Staple Fiber (RPSF) i.e. artificial cotton, which is used for manufacturing different garments, carpets, curtains, and stuffing of cushions, soft toys, comforters, etc. Apart from that, RPSF is utilized in a variety of industrial applications, including vehicles, geotextiles, filter manufacturing, and so on.
It is vital to understand the recycling process for used water and cold drink bottles to gain an in-depth understanding. Bottles are primarily collected by the unorganized sector in India, namely Swacchta Heroes (Rag Pickers), at various prominent locations. Municipal authorities, in addition to Swacchta heroes, collect these bottles. This waste is sold to ragpickers, who sort and segregate the collected plastic waste manually. The local ragpickers then deliver the water bottles to the recycling facility, which are then categorized. After washing, cleaning, shredding, and removing extraneous material from the recycling center, clean plastic in shredded form with a size of 8mm-20mm is known as rPET Flakes. These rPET flakes will be used in the production of RPSF (Recycled Polyester Stable fiber).
It would be reassuring to learn that as of 2021 nearly 90% of polyethylene terephthalate (PET) bottles, which are often used to package mineral water or juice, are collected and recycled. In this situation, India has even overtaken the world's most advanced countries, such as the United States and Europe. The recent increase in the country's recycling rate may be linked to several things, the most notable of which is the hard work of several companies that continue to battle the global crisis and help us achieve a brighter tomorrow. One such leading company is Gujarat-based JB Ecotex Limited.
JB ECOTEX was established in October 2015 to raise awareness and empower our community in the battle against pollution and for the creation of a sustainable future. JB ECOTEX operates a cutting-edge factory across 70,000 square yards in Gujarat's Mangrol district where every day around 1.2 crore PET (Polyethylene Terephthalate) bottles are being recycled and converted to RPSF. Using the most sophisticated technology available, the company has the capacity to create 60000MT of recycled polyester staple fiber annually. Management is more oriented on sustainability practices, and in line with its eco-friendly vision, The Corporation has implemented renewable energy sources, i.e 2.1 MW through wind turbine electricity and 1.2 MW through solar panels, which generate 25% of the energy required for recycling. Furthermore, since its inception, the company has reused liquid effluent created in the process and has maintained a zero liquid discharge policy.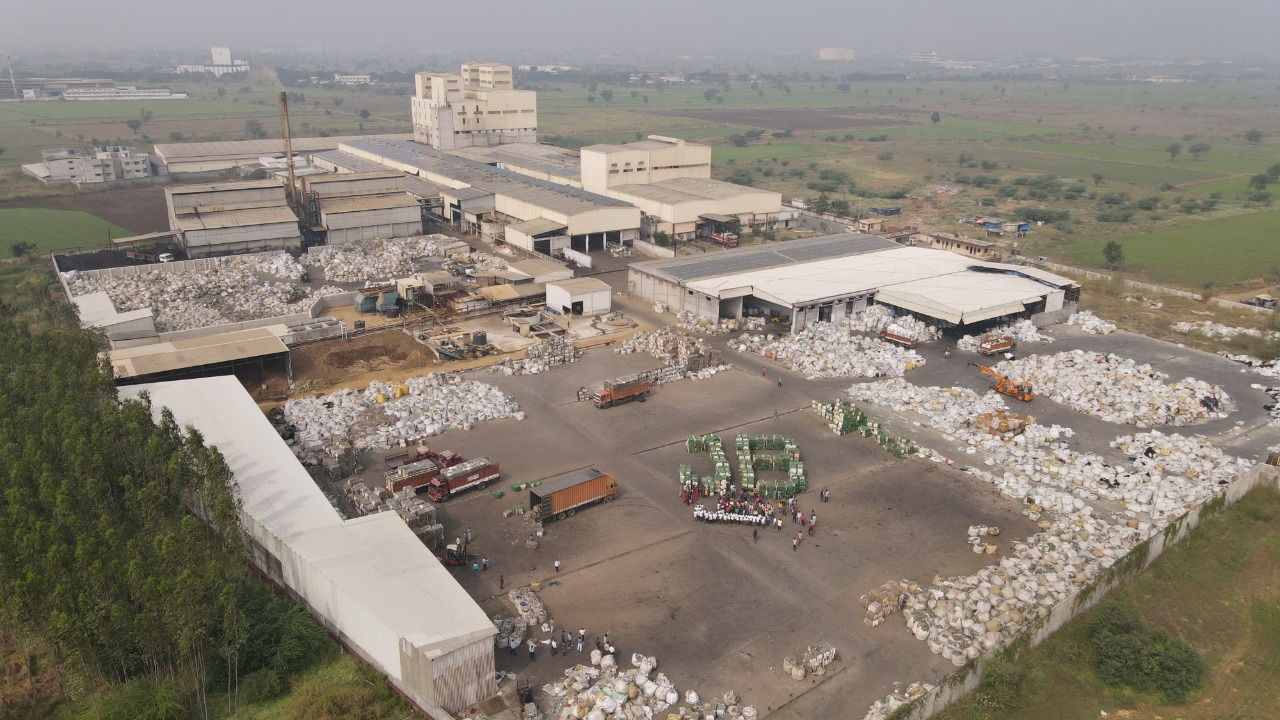 JB ECOTEX's Re-Naya initiative aims to generate new recycled items from plastic waste that match or exceed the quality standards of virgin plastic products. They offer a money-back guarantee on fabric dyeing to reassure buyers of the product's high quality. The Recycled Polyester Stable Fiber (RPSF) comes in three different colors: Ivory White, Hansa White, and Fair White. The fiber is also available in black, and it exceeds virgin black polyester staple fiber in terms of quality.
JB ECOTEX also educates and informs people about the need for waste separation and recycling through their initiative 'Nirmal Vasundhara.' Nirmal Vasundhara provides end-to-end waste management services to importers, producers, and brand owners (PIBOs). They also partner with municipal bodies (ULB) to improve waste collection and segregation to achieve their objective of 'Cleaner Cities.' Nirmal Vasundhara's Waste Tracker is an end-to-end smartphone application that increases transparency by monitoring waste pickup and channelization.
JB ECOTEX is always striving to set and achieve new goals for itself. Participate in this movement by learning and applying proper garbage disposal techniques and helping create a prosperous future.